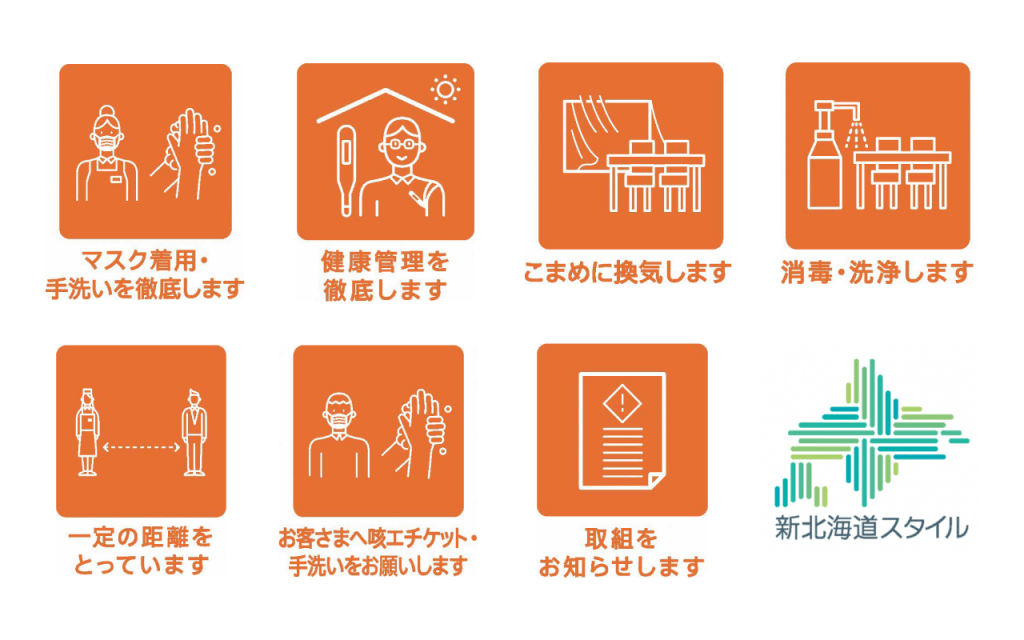 First of all, I would like to express my sympathy to all those affected by the novel coronavirus infection. I would also like to express my heartfelt gratitude to all the healthcare professionals who continue to work hard.
---
~ Ask the customer ~
Please check your own body temperature in advance.
If you are not in good physical condition or have a high risk of infection, please understand and cooperate to prevent the spread of infection, such as by canceling your visit.
The following passengers are not allowed to enter.
Thank you for your understanding.
・ Those who have close contact with those who are positive for the new coronavirus infection
・ Those who have traveled to countries or regions that require entry restrictions and observation periods after entry from the government within the past 14 days, and who have close contact with the residents
Our staff washes hands, thoroughly cleanses, and checks their physical condition when they go to work, and wear masks in consideration of the health and safety of our customers and public health.
In addition to the normal cleaning of the resort, we have a dedicated staff and regular disinfection of elevators, escalators, hand-held handbeds, doorknobs, and other places where people touch them.
If you are not feeling well or feeling well, please contact your local staff.
In the event of a suspected infection such as fever, difficulty breathing, or fatigue, we will prepare a room to wait in the resort and wait with your companion.
Please wear a mask indoors and do not go outside.
We will respond in cooperation with Furano Public Health Center (Returnees and Contact Persons Consultation Center).
Please understand that there is a possibility that the sales form may be changed suddenly in consideration of the safety of customers and employees due to changes in the situation.
Measures for each facility are as follows.
* Planned measures will be revised according to the situation and information will be updated.
~ Furano Resort Orica Hotel ~

[Disinfection]
In addition to disinfecting each facility and facility in the hotel, we will install disinfectant solutions at the entrances of each hotel facility.
If you are using the facility, please cooperate with hand disinfection.

Front
Please wait in the lobby for check-in, etc., and the staff will guide you in turn.

Check-in Procedure
Writing instruments and room keys used during the procedure will be disinfected before use.

[Room cleaning]
In addition to normal cleaning, we thoroughly disinfect places where people touch them, such as telephones, doorknobs, TV remote controls and switches, and the handles of pots and dryers.

[Air conditioning system in the hotel]
The hotel has an air conditioning system that takes in outside air, and the air in the hotel changes about 30 minutes.

[Wearing staff masks, etc.]
All service staff will be wearing masks for further notice.
In addition, service staff who provide food and beverages will wear gloves.

[Ensure the spacing between seats at each restaurant]
Each restaurant will reduce the number of seats and ensure that there is a space between customers.
In addition, in order to avoid congestion, we may limit the time of entering the store.
~ Orica Golf Club ~

[Disinfection]
In addition to disinfecting facilities and equipment, golf carts are disinfected before the start and after play.

[Installation of disinfectant solution]
Disinfectant solutions are installed at the entrance of the facility, front desk, golf cart, restroom, etc.

Front
A mark is installed on the floor so that you can line up at intervals. In addition, a splash prevention shield is installed on the counter to prevent splashes.

[Facilities]
Please help us shorten the stay time when using the locker room.
If you are not feeling well, please understand and cooperate to prevent the spread of infection, such as by visiting or playing.